The Beauty Of Picture Books, Books in General and the Arts Are a Comfort During Turbulent Times. Even a Mouse Named Frederick Knows That!
08.11.21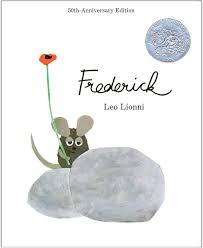 No one need tell us that these are turbulent times. The pandemic, with its accompanying tensions and the new normals that demanded and produced at every level of our cultural, educational  and governmental institutions, has had an emotional impact that will be felt in the near, and perhaps reverberate far into the future.
How will our young people deal with all of this?
What are the stabilizing factors that assure them that the future is going to be better than the past, that they are up to the task of being resilient in the face of uncertainty and that, as Mr. Fred Rogers correctly opined, in times of trouble they can…"Always look for the helpers."
Who exactly are they today? In human form they are family members, teachers, and trusted adults who can be models  of behavior for young ones as crisis enters their young lives.
But, if I may suggest, they may also take another form; the form of books. Books can both comfort and teach. They are portable and don't have to be plugged in; at least not the physical kind.
August 9th was "National Book Lovers Day" and as a long-time bibliophile, I urge you and your young readers  to carve out time each and every day to find a cozy spot and read with a young one, whether it be their favorite book for the umpteenth time or a newly discovered one.
Find a "snuggery" in your own home to allow your young reader a respite from the fast-paced, demanding and fast forward world of today.
And let them build resilience one page at a time as they read about those that, whether in fact or fiction, overcame obstacles in life. It is doable and possible.
Celebrate" National Book Lovers Day" with them every day.
Here's a great one to start the young readers off.
Frederick
by Leo Lionni
Honored posthumously in 2007 with the Society of Illustrators Lifetime Achievement Award, Leo Lionni's homage to Aesop's fable of "The Ant and the Grasshopper" has a simple and central moral theme, as do many of his books, interwoven with his use of collage in this Caldecott Honor Book.
It's a small picture book gem and one you will want to share with your children where they, and you, will fall in love with a dreamy, poetic mouse called Frederick .
What is practical versus what is beautiful, soul-filling and enduring can sometimes clash and leave us with a choice of two separate directions. What is a simple mouse to believe in?
Is it the racehorse work ethic of his contemporaries or does he listen to the still small voice and his own heart as he watches his fellow mice frantically preparing for the coming winter?
This picture book seems so prescient today as we hunker down in our homes with children home from school and parents telecommuting to work because of Covid-19. What keeps us going as life as we knew it, comes to a grinding halt and the business of 24/7 activity slowly comes full stop.
What do we find to fill in the gaps of "hurry up and be productive?" Does it define who we are and what fills us fully?
What will truly, in the end, sustain this group through the harshest of winters, in this famous fable?
Will it be food alone or will it be something more, provided by the seemingly indolent, but poetic Frederick who is a gatherer of words and images. Oh Frederick has supplies all right, and rations in reserve to sustain his fellows when the practicalities of food gathering are not enough and they run out.
They are his glimpses and vivid impressions of the outside world tucked into his memory that he can lyrically call forth at will, and they are literally life giving to the mice caught in a cold and seemingly unrelenting winter.
This picture book was written in the turbulent 60's and just perhaps, as a picture book it also reflects the moral dilemmas that faced many during that time. In its own small way, it emphasizes to children the value of being true to what one believes in and to what reflects the values one holds.
That still holds true in 2021 as we see in the social fabric of our country as this pandemic of crisis reveals character….or its lack. And, it will, in retrospect, on later examination, show what sustained us, aside from medical care and interventions.
Music, literature, dance, film, art, and so many others, all will surely have played a part in getting us through these unprecedented times.
As in Leo Lionni's "Frederick", it's the balancing of the practical AND the poetic that serve the needs of body AND soul. Neither can be ignored completely. When the rubber hits the bare-boned road, the poetic and dreamy eyed Frederick conjures images that are life giving to body and soul to his hunkered down companions in a cold world that has suddenly grown quite small.
In more unskilled hands, this could be heavy going, but not in the hands of Leo Lionni.
Please let your children discover this essential classic called Frederick, Caldecott Honor Book winner as well as other Caldecott Honor winners of his  such as Inch by Inch, Swimmy and Alexander and the Wind-Up Mouse.

Adding the Lionni classic of Frederick to your read aloud picture book collection will introduce your kids to a mouse worth meeting and you may just fall in love too!
Leo Lionni wrote and illustrated more than 40 children's books before he died in Tuscany in 1999.
In 1984, he was awarded the American Institute of Graphic Arts Gold Medal.
You might also be interested in...
November 11th is Veterans Day. It's a time set aside to remember veterans, their service [...] read full post ->

The Grasshopper & the Ants By Jerry Pinkney As fall silently and soulfully descends with [...] read full post ->

The Organization called "United for Libraries" will coordinate the 16th Annual [...] read full post ->