Essential Classic for SPRING with Fitting Prayers in the Long Slog Towards the End of a Pandemic.
03.20.21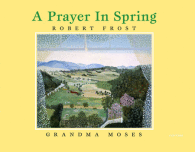 A Prayer in Spring
Robert Frost and Grandma Moses
There are plenty of prayers going skyward from farmers and growers of all types as spring, and the growing season, are off to a slow start. Mother Nature packed quite a wallop this winter; then add on Punxsutawney Phil's prognostication of six more weeks of winter on February 2nd, and spring planting is in a holding pattern.
Yet, when I spied this picture book, I felt lighter. The words of Robert Frost's springtime celebration poetry, coupled with Anna Mary Robertson aka Grandma Moses and her sublime scenes of spring, bid you to spur your young reader to get out and revel in the beauty that is awakening from long winter slumbers.
I believe in acquainting young readers with classic picture book reads. That is not to say these books are the sole sanctuaries in picture book reading of what is meaningful and important to children, but they are very special for a reason. And that great leveler is time; and that is why great picture book art and narrative can still, years after its publication, continue to speak to a child's heart.
And here, in "A Prayer in Spring" two very American masters of art and poetry combine to bring the newness of spring from their quite original perspectives.
In Frost's evocative poem of springtime sights, sounds and scenery, Grandma Moses matches his words with her very identifiable technique in a depiction of the flowers, foliage, bees, and rolling countryside that mimics Mother Earth's slow reawakening.
I love these next few lines because they expressly capture the look of apple orchard blossoms at bud break that I have marveled at in our own orchard. It's a creamy white haze of petals, amassed in row upon row, that all seems to meld together:
   "Oh, give us pleasure in the orchard white, Like nothing else by day, like ghosts at night;"
And the book's lines of poetry and art even seem to speak to the farmer's nervousness; as nothing about planting is ever guaranteed:
 "Oh, give us pleasure in the flowers to-day;

And give us not to think so far away

As the uncertain harvest; keep us here

All simply in the springing of the year."
In a world of 24/7 news cycles that are consumed with updates on vaccinations and the year-long pandemic updates, families are eager for some hopeful and uplifting words.
Why not take some timeout with  your young readers  with two titans. They would be the poet, Robert Frost and the artist, Grandma Moses. Thay will have you and your child immersed during a picture book spring sit-down, poring over pages of art bursting with green newness and renewal of possibilities.
It's very catching, because this picture book has spurred me on to take a walk in the apple orchard and see the blossoms – now!
Well, maybe not right now, as Mother Nature has perhaps just one more surprise under her bonnet in the way of another storm. But, right after that surprise comes a reprise of all the sights, sounds and smells of earth renewing itself.
So, take a young reader by the hand and revel in the earthy newness soon to arrive right around the corner, and abounding within the pages of this essential classic picture book.
New life – new earth – new beginnings – all found with the turn of a page!
There is renewal and hope to be had in the opening of a picture book.
You might also be interested in...
The Lion and the Mouse By Jerry Pinkney Jerry Pinkney's wordless rendering of this, his most [...] read full post ->

Strega Nona Does It Again! By Tomie de Paola The New York Public Library recently printed its [...] read full post ->

"Pumpkin Moonshine" By Tasha Tudor Recently, I went to our local costume/party shop [...] read full post ->