"Little Bear Marches in the St. Patrick's Day Parade" by Janice; illustrated by Mariana
03.16.21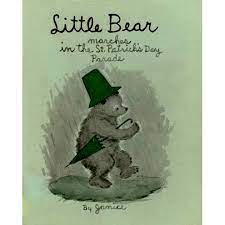 This Little Bear title in the series was first published in 1967, and though vintage in nature, time wise, it is certainly relevant and classic in its appeal of character, narrative and art.
Paddington, Pooh and Little Bear are proof positive of that. Cute bears are very hard to resist to name but three.
The story opens with the endearing Little Bear awakening in March from a bruin's long winter nap, breakfasting in bed, donned in pj's and scarfing down milk and cornflakes, along with his tiny friend, Squeaky, the mouse.
Young readers will enjoy following along in the St. Paddy's Day journey of this bear who longs to join in the parade revels to come.
But can a bear be allowed to march in the St. Paddy's Day parade?
He can because of a certain bright green umbrella left on his doorstep that just happens to have an air of the magical about it. When it opens the sun shines and when closed, the heavens pour down. Doubtful at first, Little Bear and Squeaky, through a series of experimental openings and closings of the green umbrella, develop this rare hypothesis.
Settled in bed, because of inclement weather on the day of the wearin' of the green, his friend Squeaky and stalwart aide de camp, tells the Mayor of the magical umbrella and Little Bear's accouterments's ability to make the sun shine.
Never doubt the abilities of a Little Bear, Mr. Mayor, with a magic green umbrella and a town and band that's been practicing all winter ready and eager to step off on the big day; even if you've previously said that a bear can't march in the parade.
And every politician should know you give the people what they want when they chant eagerly, "We want Little Bear! We want Little Bear! "
 When there is snow followed by hail and rain on the big day, Mayor Summers does the smart thing and it's Little Bear to the rescue with his green umbrella.
But this small bruin knows the art of the deal as he wangles a green hat,  a yes to marching in the parade AND, as the biggest negotiated bonus, Little Bear gets to beat the drum in the parade.
Young readers will cheer, "We want Little Bear! We want Little Bear! 
Just don't forget the magic green umbrella on St. Patrick's Day! 
You might also be interested in...
November 11th is Veterans Day. It's a time set aside to remember veterans, their service [...] read full post ->

The Grasshopper & the Ants By Jerry Pinkney As fall silently and soulfully descends with [...] read full post ->

The Organization called "United for Libraries" will coordinate the 16th Annual [...] read full post ->