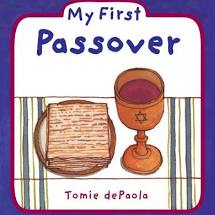 It has been almost one year, specifically March 30, 2020, that picture book author and friend, Tomie dePaola, passed. His legacy of  childrens's books are thankfully alive celebrating the richness, breadth and depth of his connection to children and their language.
Here is a reposting, in his honor, of a video originally done some years back that celebrated his board book for young readers concerning the feast of Passover that is celebrated beginning March 27th, 2021 to April 4th of this year.
Tomie's ecumenism was palpable as his Catholicism embraced and celebrated all faiths.
And so, as Tomie would say, were he here, as his spirit still flourishes, Happy Pesach!
You might also be interested in...
"Pumpkin Moonshine" By Tasha Tudor Recently, I went to our local costume/party shop [...] read full post ->

Bad Apple: A Tale of Friendship By Edward Hemingway There has been much in the news of late on [...] read full post ->

Dr. De Soto by William Steig It's no secret that I love classic children's picture books [...] read full post ->