"A Computer Named Katherine: How Katherine Johnson Helped Put America on the Moon" written by Susanne Slade; illustrations by Veronica Miller Jamison
03.28.21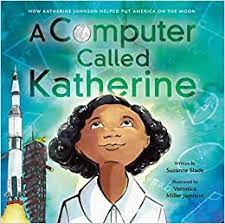 Introduced to the wider world in the movie called "Hidden Figures," Katherine Johnson's extraordinary mathematical gifts are explored and set against the racial insensitivity and bias of the 1950's and 60's as the United States began its attempts to put a man on the moon.
Katherine Johnson's life, both as a female and African-American, is chronicled here in the breaking of barriers in her rise to be a "calculator," for the NASA program that put men on the moon by figuring out the trajectory calculations in the early space flights, before the onset of the use of  IBM computers.
.….The book devotes a spread to the civil right struggle illustrating how people were divided about school integration; it also show that many were disagreed about whether a woman should work at jobs traditionally held by men. Jamison stresses how Johnson's talents in math broke both barriers. ….First time illustrator Jamison relies on ink, watercolor, marker and colored pencil to create spreads that emphasize math concepts. Often there's a faint background of the geometric images and equations shown on the end papers…"
                                                            School Library Journal
".…..compellingly told…. An excellent way to introduce young readers to an African-American female mathematician who deserves to be remembered and celebrated.".
                                                                         Starred Kirkus Review 
The author, Susan Slade, holds a mechanical engineering degree and worked on NASA's Delta rockets. Two of her more recent books include:
Countdown: 2,979 Days to the Moon
Daring Dozen: The Twelve Who Walked on the Moon
Katherine Johnson, presented with the Presidential Medal of Freedom in November 2015, by then President Barack Obama, is a wonderful role model for young women and this book is as well, in that aside from rock stars and sports figures, it portrays a different kind of hero for young readers.
I culled these inspirational quotes from her for young woman who dream big, and face barriers:
"Take all the courses in your curriculum. Ask questions. Find someone doing what you are interested in. Be curious."

 

"Girls are capable of doing everything that men are capable of doing. Sometimes they have more imagination than men."

 

I don't have a feeling of inferiority. Never did. I'm as good as anybody, but no better."

We will always have STEM with us. Some will drop out of the public eye and go away, but there will always be science, engineering and technology. And there will always, always be mathematics.
And recently, the acronym of STEM has added an A for STEAM, reflecting the need for the ART,S as well, to be seen as a necessity for humanity to feed the heart and soul and bind the rest together for full effect.
I believe Katherine Johnson would agree.
You might also be interested in...
Sister Anne's Hands By Marybeth Lorbiecki; illustrated by Wendy Bopp Several years ago saw [...] read full post ->

Think of the word "spunk." Irene of Steig's "Brave Irene" had [...] read full post ->

October 4, 2021 is the twelfth celebration of something called National Taco Day. According to [...] read full post ->