Let's Honor Mr. Washington!
02.19.21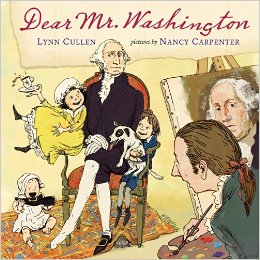 Dear Mr. Washington
By Lynn Cullen; pictures by Nancy Carpenter
Are you ready for a funny and partly historical, yet hysterically chuckle-filled read? Then "Dear Mr. Washington" is the picture book to honor "The Father of Our Country", George Washington.
Most picture books on the first President and Commander-in-Chief are adequately fact-filled and very accurate. But where is the humanity and humor?
Well it's all found here in Ms. Cullen's use of a bit of historical license in her take on a true event in the life of George.
I'm sure you've all seen the famous Gilbert Stuart painting of George Washington. It hangs in the National Portrait Gallery in Washington, D.C. Gilbert Stuart also painted the very serious George of perfect deportment and manners, whose image appears on the dollar bill.
Let me set the scene. It's April of 1796 and Washington arrives at the home of this master portrait artist to capture this iconic president for all time. And Stuart, unlike the solemn Washington is a bit of a prankster.
Try imagining the scene with Gilbert trying to loosen up George to get a relaxed feel for the painting – or even a smile. Add to the mix, the artist's children that are about the house, and Ms. Cullen's picture book takes off! Don't kids always want to help?
It's very cleverly done. The picture book intersperses a series of supposed admonitions on behavior, taken from a book that is a supposed gift to the Stuart trio of children from Washington. The book is called "Rules of Civility and Decent Behavior in Company and Conversation". Washington apparently copied these rules laboriously, I believe, probably for both practicing penmanship and deportment. Double benefit was enjoyed by George!
Enter three of Gilbert's children that are witness to the attempted portraiture. Chaos is afoot and Washington runs afoul of the the children's well intentioned attempts to "follow the rules."
Disaster is the only thing that ensues as the children are bent on helping their father to get George to smile.
But even the First President cannot resist forever the "scallywags" of the Stuart family – and neither will you. They are impish in the extreme as only children can be that are really trying hard to be good – for dad and country.
Nancy Carpenter completes the picture of a portrait gone awry in her perfect renderings that capture chaos unfolding at the Stuart household.
Please allow your child a very imaginative trip to the Stuart household for "what would have happened if," preceding the painting of this most famous of presidential portraits.
Mrs. Stuart must have been a very brave woman with twelve children in tow and a president in the parlor!
You might also be interested in...
"Pumpkin Moonshine" By Tasha Tudor Recently, I went to our local costume/party shop [...] read full post ->

Bad Apple: A Tale of Friendship By Edward Hemingway There has been much in the news of late on [...] read full post ->

Dr. De Soto by William Steig It's no secret that I love classic children's picture books [...] read full post ->