Good Luck and Wealth are Important Themes in Chinese New Year Rituals and Preparations. Will Goldy Luck Find Both in "Goldy Luck and the Three Pandas" by Natasha Yim; illustrated by Grace Zong?
02.14.21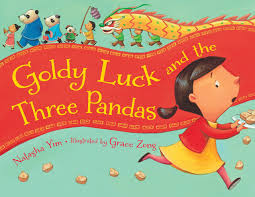 At birth, Goldy Luck is deemd lucky and a future possessor of great wealth.  Why? She has been born in the "Year of  the Golden Dragon."
But unfortunately, poor Goldy appears to have neither.
Will it continue that way?
Read on and see, as her mom sends her on a mission of friendship to their neighbors, the panda Chan family, in order to wish them 'Kung Hei Fat Chow" or Happy New Year, by carrying a plate of freshly-made turnip cakes.
Oh, and Goldy has the bad luck to break things as well and as for wealth accumulation, even her piggy bank has fallen victim to breakage.
Here's one review of Ms Yim's delightful take on "Goldilocks and the Three Bears":
"Uses the celebration of the Chinese/ Lunar New Year as the backdrop for a story that can be enjoyed year round."

                                                                  School Library Journal
Of course turnip cakes will be lost, rice porridge called "congee" will be  tasted and consumed in different size panda bowls, chairs will be tried and even splintered in pieces and beds will be tried for a snooze, until one is found that is just right for a congee-induced snooze.
The panda Chans return and find chaos.
Will they know who the culprit may be?
Will Goldy's contrition wind up in a shared making of new turnip cakes?
You can bet the answer is YES! 
Grace Zong's art is rife with red, green and gold that may be fortuitous colors and they work beautifully here to bring Goldy and the Chan panda family richly and riotously to life.
Be sure to read Natasha Yim's "Author's Note" at the close of the picture book.
It brings additional background information on the foods with special meaning in the celebration of the Chinese New Year and there is a recipe at the end for turnip cakes if you would like to see how its done.
The festival lasts for about 15 days and is based on the lunar calendar that is based on the cycles of the moon. Beginning February 12, 2021, the Chinese New Year commences.
Red is a lucky color in Chinese culture with older and married couples distributing lucky red envelopes with money to children and unmarried people at this time, bringing good luck to both giver and receiver.
Family and friends can wish each other Happy New Year in a variety of ways:
Cantonese – Kung Hei Fat Choi
Mandarin – the national language of China, Happy New Year is said as Gong Xi Fa Cai (pronounced as "goong shyee fah tsai").
How ever it is said, your young reader will enjoy meeting the Luck and Chan families in this lively and lovingly done retelling of Goldilocks and the Three Bears."
May wealth and good luck be yours this year of 2021!
You might also be interested in...
Sister Anne's Hands By Marybeth Lorbiecki; illustrated by Wendy Bopp Several years ago saw [...] read full post ->

Think of the word "spunk." Irene of Steig's "Brave Irene" had [...] read full post ->

October 4, 2021 is the twelfth celebration of something called National Taco Day. According to [...] read full post ->