Martin Luther King, Jr. : A Life by Marshall Frady
01.15.21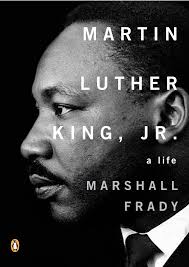 On this day, January 15th in 1929, some 92 years ago, which is a lifetime for some, civil rights leader Martin Luther King, Jr. was born in Atlanta, Georgia.
 He was assassinated at 39 years of age.
 What his short life accomplished is riveting. imagine what it could have done in 92 years!
And what a life it was. Filled with conscience, compassion, clarity and civil disobedience, Martin Luther King, Jr. became a symbol of a nation's conscience to confronting the issue of "separate, but equal" is not equal.
I recently blogged on the "What Was the March on Washington?" from the series "What was..?"
Perhaps for older young readers, here is a book on Martin Luther King, Jr. that might be a stretch for some, but is certainly worth the stretch.
Far from sitting on the sidelines of history at a typewriter at a desk, Marshal Frady was a young journalist in the culturally turbulent 60's.
Marshall Frady walked the hot sidewalks, sat in crowded churches and courtrooms and interviewed prominent civil rights leaders. Now the critically acclaimed biographer profiles a man whose spiritual and political leadership gained him an indelible place in twentieth century history.
Here is but one review of Marshall Frady's biography pf Martin Luther King, Jr.:
Frady's read is an engrossing read for its literary prose, as well as its tableau of the times and freshened perception of King as a personality. Highly recommended.

                                                                            Library Journal
As I mentioned at the outset of this post, this is certainly not meant for a young reader of average picture book age, but for the young reader who is hungry for more than a capsulized snap shot of a transformative cultural figure whose moral direction provided tough guidance to a nation in a non violent way that led to change, this is certainly the book.
You might also be interested in...
November 11th is Veterans Day. It's a time set aside to remember veterans, their service [...] read full post ->

The Grasshopper & the Ants By Jerry Pinkney As fall silently and soulfully descends with [...] read full post ->

The Organization called "United for Libraries" will coordinate the 16th Annual [...] read full post ->