Over its 125 Year History, Can You Guess What Book Was Checked Out The Most From the New York Public Library?
01.31.21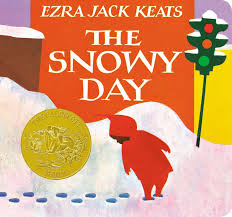 An article last year in a New York newspaper touted the top ten books checked out from patrons of the New York Public Library over 125 years.
And Ezra Jack Keats Caldecott Award winning picture book called "The Snowy Day," came in at the number one position on the list, having been checked out 485,583 times, since its introduction into the catalog at the New York Public Library in 1962.
This included checkout figures from the system's branches in Manhattan, Staten Island and The Bronx, plus e-book checkouts, said Andrew Medlar, an expert from the library who helped compile the "most-booked  list.
Mr. Medlar had this to say of Keats' "The Snowy Day":
People "remember when they first heard it, and they want to share that experience with their children."
It was followed by:
"The Cat in the Hat" – Dr. Seuss (469,650)
"Where the Wild Things Are" – Maurice Sendak (436,016)
"Charlotte's Web" – E.B. White (337,948)
"The Very Hungry Caterpillar" – Eric Carle (189,550)
Deborah Pope, executive director of the foundation named after Keats who died in 1983, had this to say of the achievement:
"The popularity of children's books on this Top 10 list shows that literacy and the love of reading is a high priority for all of us in New York City."
As for me, it speaks highly of the resounding ability of the picture book to speak across time with its continuing efforts to sustain and build attention span, evoke memory with its narrative and art, build the imagination, and even, at its rarest and most classic, entertain with stories that capture childhood in all its innocence and commonality.
Such is the touch within the pages of Ezra Jack Keats, "The Snowy Day," as it captures a feel and a moment in childhood that today, unfortunately, is ever more compressed into a shorter and shorter window of time.
As snow is about to descend on the New York area this evening, January 31, 2021 and cover it with a quiet serenity of calm, it seems more than appropriate to revisit Ezra Jack Keats and little Peter poking sticks at trees, making snow angels, covered in snow and mom uncovering little Peter from his mounds of boots, socks, mittens and clothing at the end of his outdoor adventure.
In this classic picture book, it is the subject of highly relatable childhood territory.
Please peruse the favorite classic children's books on the list, revisit them with your young readers, and enjoy my own salute to this classic book that I filmed several years back.
http://www.lizsbooksnuggery.com/2018/01/wednesday-snowy-day/
You might also be interested in...
November 11th is Veterans Day. It's a time set aside to remember veterans, their service [...] read full post ->

The Grasshopper & the Ants By Jerry Pinkney As fall silently and soulfully descends with [...] read full post ->

The Organization called "United for Libraries" will coordinate the 16th Annual [...] read full post ->