"Tilly Witch" by Don Freeman
10.27.20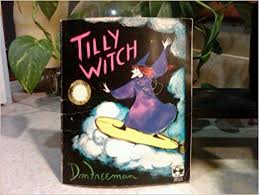 You may recognize the name Don Freeman from the fame gained from his book about an urban bear named "Corduroy," that found his way into  a young girl's home and heart with a lost button from his corduroy outfit.
My now grown girls loved him.
Here are some other Don Freeman favorites you and your may not have heard about, so why not have a Freeman reading frenzy?
They are:
Beady Bear
Bearymore
Dandylion
Mop Top
Norman the Doorman
The Paper Party
A Pocket for Corduroy
A Rainbow of My Own
Space Witch
Will's Quill
And let us not forget, Fly High Fly Low, Don Freeman's  Caldecott Honor Book designated winner from 1957:
"The creator of Corduroy gives the city a charming colored-pencil ribute with portraits of glowing sunsets, the Golden Gate Bridge spanning the shimmering bay, and a trolley car cresting a hill."

                                                          Publishers Weekly
I chanced upon this 1969 picture called "Tilly Witch" and she's terrific.
She's a tad akin to the Hazel Witch of Disney fame and by that I mean they look nothing alike, but they can both pull all the magic stops out and yet have kind hearts when it counts.
Tilly Ipswitch was the Queen of Halloween and as Halloween nears she finds herself on her mountaintop feeling kindly toward "everyone in the world, especially children."
Well, it IS a lovely evening.
Tilly begins acting more like Queen of the May, gathering flowers in the fields and even her pet cat, Kit, is dismayed at the change in Tilly.
After all, Tilly rightly reasons if kids can have fun pretending to be WITCHES, why can't Tilly play at being happy?
But, as Tilly tries the switch back to the wicked witch that she was, she finds she CAN"T!
Gadzooks! Will Tilly be able to be witchy come Halloween?
How can she be witchy when she feels so good? A dilemma has ensued with but one remedy.
She's off to the island of Wahoo to see Dr. Weegee aboard her surfbaord with a broom attached at the rear. It's very high tech!
He sends her to a specialist, natch, at Miss Fitch's Finishing School for Witches.
Can Miss Fitch, who describes Tilly as her most prized  former witch graduate, be switched back before Halloween?
Don Freeman knows how to both weave a spell of a story and illustrate its characters with bold purples, yellows, greens and uses of black.
Will Tilly make the transition in time to cackle for Halloween?
The read and the ride is Halloween fun for young readers!
You bet your broom she will!
You might also be interested in...
In addition to being the unlucky Friday the 13th of ancient lore, I prefer at The Snuggery to [...] read full post ->

November 11th is Veterans Day. It's a time set aside to remember veterans, their service [...] read full post ->

Day of the Dead Activity Book by Karl Jones and Steve Simpson and Uncle Monarch and the Day of [...] read full post ->