Disney's The Legend of Sleepy Hollow and the "Nine Old Men" Animators that Brought the Classics to Life for Generations of Children!
10.31.20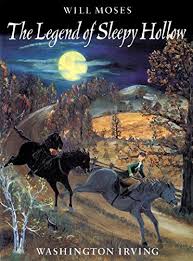 One of the greatest treats this Halloween season is to revisit the Walt Disney 1949 version of Washington Irving's telling of the haunting and somewhat hilarious "The Legend of Sleepy Hollow," narrated by none other than Bing Crosby, and drawn to animated perfection by some of Disney's imagineers in the group called "Nine Old Men". These were the core animators that created some of Disney's most famous animation triumphs from Snow White and the Seven Dwarfs"  to The Rescuers.
The Nine Old Men were:
Les Clark: His specialty was that most famous of rodents called Mickey Mouse.
Marc Davis: Developed characters such as Bambi, Thumper, Maleficent and Cruella de Vil.
Ollie Johnston – Credit Ollie with Smee from Peter Pan, the stepsisters in Cinderella, helped create the character of Ichabod in The Legend of Sleepy Hollow along with Frank Thomas, as well as the dastardly duo of Sir Hiss and Prince John in Robin Hood.
Milt Kahl – If you loved the characters of Pinocchio, Tigger, Peter Pan, Shere Khan, these animations were only a handful of his wonderful creations.
Ward Kimball – The most famous cricket called Jiminy is his, as well as the mice called Jaq and Gus, plus their nemesis, the cat called Lucifer in Cinderella. And The Mad Hatter and Chesire Cat from Alice in Wonderland were due to his crazy sense of humor.
Eric Larson – If you loved the character of Peg in Lady and the Tramp, that's Eric, as well as the vultures in The Jungle Book. Brer Rabbit, Brer Fox and Brer Bear from Song of the South are his as well. He was tasked with identifying and training new talent to mentor the Disney animators of today.
John Lounsbery – Here are but a few of his animated gems: George Darling in Peter Pan, Kings Stefan and Hubert in Sleeping Beauty, The Elephants in The Jungle Book, J. Worthington Foulfellow and Gideon in Pinocchio, and Ben Ali Gator in Fantasia.
Wolfgang Reitherman: If you loved Monstro the Whale in Pinocchio or The Headless Horseman in The Legend of Sleepy Hollow or how about the ticking crocodile in Peter Pan, they are but a handful of Wolfgang's gang of scary toons.
Frank Thomas: If you loved to hate the evil Stepmother in Cinderella or the Queen of Hearts in Alice in Wonderland, that's Frank Thomas at his best.
And, I would entirely be remiss f I did not add a very important name to the nine, and, a very favorite of mine, and that would be Vladimir Peter Tytla or Bill Tytla.
He created such amazing characters of force and ferocity at Disney, such as the sorcerer in "The Sorcerer's Apprentice," Stromboli in "Pinocchio" and my favorite, so appropriate for All Hallows Eve, Chernabog from "Night on Bald Mountain" sequence in "Fantasia." Bill both felt and acted out his characters with emotion and panache as he drew.
I have put in a link also to "Night on Bald Mountain," below.
So, when you click on the link below to Walt Disney's introduction to The Legend of Sleepy Hollow, as he brings the author Washington Irving and his background to life, as well as the animated story itself, please revisit this childhood classic that follows. And, if you are looking for a picture book to match it, please try Will Moses, great grandson of Grandma Moses, and his wonderful picture book version. The art matches Washington Irving's eerie and other worldly story perfectly. Please give it a read.
And when The Headless Horseman appears, please give a tip of the hat to the animator, Wolfgang Reitherman, and the unbelievably talented Nine Old Men of Disney who, through their artistic gifts, brought the many classic reads of childhood to children everywhere.
http://rarehalloweenvideos.blogspot.com/2011/10/1955-legend-of-sleepy-hollow-with-intro.html
You might also be interested in...
In addition to being the unlucky Friday the 13th of ancient lore, I prefer at The Snuggery to [...] read full post ->

November 11th is Veterans Day. It's a time set aside to remember veterans, their service [...] read full post ->

Day of the Dead Activity Book by Karl Jones and Steve Simpson and Uncle Monarch and the Day of [...] read full post ->