Creepy Carrots! Words by Aaron Reynolds; Pictures by Peter Brown
10.28.20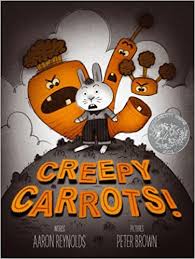 We grow carrots on our farm, so I was more than intrigued by the title of this 2012 New York Times best selling picture book by Aaron Reynolds with pictures by Peter Brown and winner of a Caldecott Honor Medal in 2013.
"Creepy Pair of Underwear," appeared in 2017 by the same duo; also a best seller…though I have not dove into that picture book yet…poor choice of words I admit.
If you can picture Jasper Rabbit hippity hopping over to Crackenhooper Field, post Little League game, for a tantalizing taste of his favorite snack, you're in.
NOW, picture Jasper's belief that the carrots are FOLLOWING HIM!
From his nightly tooth brushing, to a nearby shed, and even on the wall  in his room, it seems the carrots are creeping up on him.
Mom and Dad come to investigate to no avail.
What's a rabbit to do?
Why his solution is to build a fence AND moat around the carrot field at Crackenhooper's.
Fixed!
But for whom?
Those cunning carrots are pretty clever, friends, as they have gas lighted dear Jasper into doing EXACTLY what THEY need to guarantee THEIR survival.
I have to take a closer look at our carrots.
They seem nice…but then, who knows?
You might also be interested in...
In addition to being the unlucky Friday the 13th of ancient lore, I prefer at The Snuggery to [...] read full post ->

November 11th is Veterans Day. It's a time set aside to remember veterans, their service [...] read full post ->

Day of the Dead Activity Book by Karl Jones and Steve Simpson and Uncle Monarch and the Day of [...] read full post ->