It's National "Kiss Me Day," and Tomie dePaola's Picture Book, " The Journey of the Kiss," Has at its Heart, a Traveling Message and Meaning for Young Readers…and Not So Young.
08.27.20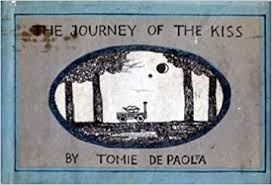 Tomie dePaola, picture book icon and friend, is to be celebrated especially today.
This picture book, published in 1970, was done as Tomie's Master's thesis at the California College of Arts and Crafts. It is funny, searching and has themes that touch the heart lightly, but with whimsy, wit and wisdom….and depth.
His book is a fable and sincere and special look at the heart of Tomie and what he valued and believed, I happen to think.
Love and affection can be given, not earned or bought or possessed, but bestowed, on someone that both needs it AND knows its value. It is never given lightly, yet there is a lesson that we all learn in our life journeys that has to do with the giving of love and the natural affection that follows along in its wake.
Literally boxed off from everything, the Kiss starts its journey in a little red wagon to find out what it's missing.
Its simplicity and art is telling.
The Kiss travels noticed and unnoticed through the world.
It meets a miser, a princess and an old woman learning from each what it needs to discover.
But the Kiss is ever closer to what is missing from its life.
Below is a song that I think captures the essence of this picture book.
Oddly enough, it's from a very funny mockumentary called "A Mighty Wind," written by Christopher Guest and Eugene Levy." It's sung by Eugene Levy and Catherine O'Hara, aka the fictional Mitch and Mickey.
The song is called "A Kiss at the End of the Rainbow."
Kisses to you, Tomie!
You might also be interested in...
F is for Flag by Wendy Cheyette Lewison; illustrations by Barbara Duke In addition to this [...] read full post ->

Here is a reprint from a Snuggery blog and taken from a USA Today article. It was posted on [...] read full post ->