Celebrate 51 Years of Eric Carle's "The Very Hungry Caterpillar" That Combines Observations of Nature AND Life Lessons!
06.25.20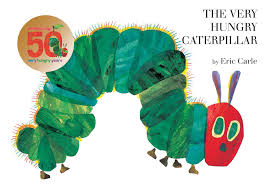 Today is picture book author extraordinaire, Eric Carle's, natal day.
Picture book authors are a very special breed. They have a rare gift and special opportunity to reach children at a pivotal point in their development.
Read the words of one such special author and you will see what I mean. Eric Carle, winner of the Laura Ingalls Wilder Award and many other accolades for his body of work for young readers, hits the nail on the proverbial head with this quote:
"With many of my books I attempt to bridge the gap between home and school. To me home represents or should represent: warmth, security, toys, holding hands, and being held. School is a strange and new place for a child. Will it be a happy place? There are new people, a teacher, and classmates—will they be friendly?
"I believe the passage from home to school is the second-biggest trauma of childhood; the first of course is being born. In both cases we leave a place of warmth and protection for one that is unknown.
"The unknown often brings fear with it. I try to counteract this fear; to replace it with a positive message."
These are welcoming words from an author who has influenced, comforted, taught and inspired, generations of young readers with his picture books.
His idea for The Very Hungry Caterpillar  was, in his words, pure coincidence. Many creative ideas for a book emerge fully formed from an experience of the author. In this case it was a hole puncher used on a sheaf of papers evoking a  "bookworm" morphing to "green worm" and finally, to "caterpillar."
The Very Hungry Caterpillar is an iconic example of Eric Carle's contribution to young readers. Written in 1969 with more than 30 million copies sold, this classic children's read has been translated into 45 languages! The metamorphosis of the caterpillar ,as he eats his way through a variety of food groups, including sausages, ice cream, chocolate cake, pickles and cupcakes, ends with the ensuing emergence of the butterfly from its cocoon. It seems to mirror childhood and its process of growth and change.
The key ingredient in the story, I always felt, was the food—the fuel that feeds the growth. And, just as food nourishes and supports a young, growing body, so too it also needs the constant nourishment of books to feed the thirsty, inquisitive child with a constant rich and varied diet of the mind.
Eric Carle has been a wonderful contributor to that diet for generations of young readers and eager young minds. The Very Hungry Caterpillar has been, for many young readers, but one of those meals.
In fact, it may be a seamless metaphor for his preceding quote. Life, in all its varied forms, human or insect, is inevitably faced with the certainty of change. Things change, we change, life changes, but seeded deeply within that change is the opportunity for something exciting to happen—growth.
As previously mentioned, in 2003 Eric Carle received the Laura Ingalls Wilder Award, first given in 1954, and named for it first recipient. Given by a division of the American Library Association, it is given to an author or illustrator whose books, published in the United States, have over the years, made a "substantial" and "lasting" contribution to literature for children. One selection committee member summed it up best: "Eric Carle's visual observation of the natural world encourages the imagination and often mirrors the larger changes in a young child's development and experience."
And, if I may opine on a subject for just a few moments, in 2018 the award named for Ms. Ingalls Wilder, was renamed The Children's Literature Legacy Award.
Why?
The Association for Library Services To Children felt some fifty four years AFTER the designation of the award bearing her name that it be removed because the Association Stated:
"The decision was made because her work included expressions of stereotypical attitudes inconsistent with the ALSC's core values of inclusiveness, integrity and respect."
It certainly begs the question were those values on hold for some sixty -four years after the award was named for Laura Ingalls Wilder and what does it say for the original committee that made the decision in 1954?
I wholeheartedly agree with the sentiments of The Laura Ingalls Wilder Research Association and its counter statement:
"We believe it is not beneficial to the body of literature to sweep away her name as though the perspectives in her book never existed
Those perspectives are teaching moments to show generations to come how the past was, and how we, as a society, must move forward with a more diverse and inclusive perspective."
Back to the celebration of Mr. Carle's Birthday, now that I have expressed my thinking of the erasure of Ms. Ingalls Wilder's name from the award.
And in passing, I would like to say please have your children read the "Little House" series and see if you believe this gesture by the AlSC was warranted.
Make your own decision and ask your young readers what they think in terms of the historical perspective of her books.
In his books, reflected back to a child through the mirror of nature, is the certainty of change, but it need not be fearful; on the contrary, it can be beautiful, rewarding, and exciting.
Lessons learned by a child through a book can be simple, yet life-affirming. In Carle's childhood world, there is an exciting period of play, observation, and discovery leading to growth and many life lessons.
Speaking of life lessons, there was an amazing initiative several years ago, focusing on the goal of helping children and families learn about healthy eating habits. The Alliance for a Healthier Generation and the American Academy of Pediatrics,  joined forces with We Give Books, a digital initiative of Pearson, parent company of Penguin Books, publisher of The Very Hungry Caterpillar. A specially created free copy of The Very Hungry Caterpillar  was offered at pediatric offices across the U.S. to highlight the importance of the issue of healthy eating as a way of reversing the trend of childhood obesity.
Knowing when one is satisfied and full is a lesson the caterpillar learns in Eric Carle's book as he winds up with a whale of a stomachache! As Mr. Carle states, ". . . I hope The Very Hungry Caterpillar will be a happy reminder for children to grow healthy and spread their wings like the butterfly in my book."
Reading and healthy eating are both habits formed early in a child's life. Both also have a major impact on their future and the quality of their lives. What a great opportunity to teach both lessons together with a book that has charmed generations of readers and whose character is a sort of a metaphor for childhood itself.
Today, the fast-forward pace of our culture seems, to the casual observer, to be compressing childhood into a smaller window of time. Maybe authors like Eric Carle have in their works a gentle reminder to slow it down a bit.
And here's a radical thought: why not let kids have a break from over scheduled free time, so they have a chance to, dare I whisper it…get BORED! Sometimes that boredom gives way to dreaming, pretending and imagining.
And isn't THAT supposed to be a big part of childhood…or at least it was.
Accomplishing anything of worth takes the investment of time, whether it's reading a book or growing up. To me, the two have always been inextricably linked. One feeds and informs the other. Eric Carle recognized that and allowed his readers to use nature as a classroom and teacher.
In The Very Hungry Caterpillar, he reflects the fascinating, not to be rushed, growth curve of childhood the caterpillar follows. It is filled with observation and is buoyed up in the process by a sense of security—the world is a good and beautiful place. Children are anything but static. They continually grow, adapt to new situations, and, in the process, become resilient and strong. And they are fed all through this process.
Have you ever seen a movie with Laurel and Hardy called March of the Wooden Soldiers?  It's usually on television at Thanksgiving and Christmas. The sentimental plot includes famous storybook characters—Old King Cole, Tom, Tom, the Piper's Son, Little Bo Peep, The Old Woman Who Lived in a Shoe, Three Little Pigs, and many others woven into a fanciful tale, including my personal favorites—the Bogey Men!
Where am I going with this, and what in the name of caterpillars does the revered Eric Carle have to do with this? Well, the famous tune "Toyland" plays as a theme throughout the movie. When Elmer, one of The Three Little Pigs, is napped and Tom Tom, the Piper's son, is incriminated for the crime with a link of pork sausage that turns out to be beef, The Old Woman is evicted and Bo Beep is stuck with ace villain Barnaby, who holds the mortgage on The Old Woman's shoe. Are you still with me?
Things DO look bad, yet good triumphs and evil is packed off to Bogeyland! Remember the song I mentioned? It speaks to the fleeting passage of childhood; the last line always gets me—"Once you leave its portals, you can ne'er return again." Sniff.
No one wishes to produce a crop of Peter Pans, but hey, what's wrong with reading The Very Hungry Caterpillar again and again and again?  The habit of reading aloud with a child allows a deeper, richer enjoyment of the experience of childhood, enhanced by works of authors such as Eric Carle.
I firmly believe these classics for young readers reinforce and add greatly to that precious, never to be repeated time. Reading continues to feed and strengthen a child in much the same way as food on a dinner table. I deeply believe we can never underestimate the central role of books in the formation of a life. The lifelong habit of reading, begun early in life, can instruct, comfort, stretch the imagination, and provide a companionship of sorts that a child will return to often.
"Early and often" should be the mantra for reading these classics to our children, grandchildren, or to any youngster in search of a good read.
You know how I'm so sure of this?
I still like reading picture books myself—always have, always will.
You might also be interested in...
"Flo And Wendell Explore" By William Wegman Today is "National Siblings [...] read full post ->

Vile Verses by Roald Dahl ROALD DAHL: the name is as magical, marvelous, mood-filled and [...] read full post ->

Little Poems for Tiny Ears Poems by Lin Oliver; illustrations by Tomie de Paola After a long [...] read full post ->