"A Handful of Beans": Six Fairy Tales Retold by Jeanne Steig with Pictures by William Steig
06.28.20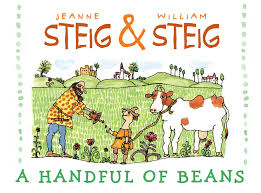 William Steig is one of my picture book heroes. He was a cartoonist whose delightful and humorous drawings enchanted readers of "The New Yorker" for years with his wit and wisdom.
At sixty years of age he segued into the world of picture books and his second book, "Sylvester and the Magic Pebble," won the Caldecott Medal as Best Picture Book of the Year in 1970.
Imagine my surprise when I discovered this gem, published in 1998 with fairy tales re-imagined by his wife, Jeanne, with accompanying pictures by husband, Bill.
Each picture book lover has his or her favorites, and no need for explanation of my triumvirate. They would be William Steig, Tomie de Paola and Tomi Ungerer.
I love books that have no apologies for "text density;" in other words the narrative may be long and, with it comes the need for perhaps the developed attention span.
The vocabulary may be interesting, inventive and even challenging. For William Steig, a villain might be termed an "odoriferous wretch" and the water described as a "phosphorescent sea."
And as for the art, it could be alternately, realistic, painterly or downright giddy and goofy.
In "A Handful of Beans," Jeanne Steig has captured my heart with her fairy tales, freshly mounted with a disarming newness in her take and richness of narrative that has a tongue in cheek wit and an unapologetic bow to great use of descriptive vocabulary.
For instance, here's the opening volley of the description of Rumpelstiltskin:
"All at once the door flew open, and in stomped a bizarre little man with a pickle-shaped nose and a lumpish body. He was just as tall as a sack of grain, and his clothes were outlandish.
'What are you bawling and squalling about?
Some fiddle-dee-diddle, I have no doubt,'
he roared, with a snaggletoothed grin."
Right then and there, Jeanne Steig has proved her worth in picture book value to me with the mere use of some great vocabulary such as:
bizarre
lumpish
outlandish
squalling
snaggletoothed
Young readers may not get the exact meaning of any of these wonderfully descriptive word images of Rumpestiltskin, and then maybe again they will. And just maybe you and they can look them up. Young readers have a very savvy way of divining the meaning of words in context, even though they have NEVER seen them before.
Bravo, Jeanne!
And Ms. Steig, aided and abetted by the lively and lilting art of William Steig brings five other fairy tales to language life such as:
The Frog Prince
Hansel and Gretel
Jack and the Beanstalk
Little Red Riding Hood
Beauty and the Beast
Each is uniquely and wonderfully presented with vocabulary that has verse, verve, wit and style.
And her husband matches each tale, step for step, with his whimsical and hilarious artistry.
Please do not let your young reader miss this treasure of six tales rendered by the Steig duo.
They will read the thwarting of a witch, the slaying of a giant, the survival of Red Riding Hood and her gram, the wedding of Beauty and her Beast, a Frog Prince that literally hops off the page with perfection, and a gnome with a name that is his claim to fame; along with his ability of spinning straw into gold.
And young readers will love the ride.
You might also be interested in...
We grow carrots on our farm, so I was more than intrigued by the title of this 2012 New York [...] read full post ->

Fly High Fly Low By Don Freeman I recently blogged on a Halloween selection called "Tilly [...] read full post ->

You may recognize the name Don Freeman from the fame gained from his book about an urban bear [...] read full post ->