"Bill and Pete to the Rescue"; Written and illustrated by Tomie DePaola
04.21.20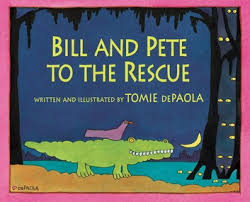 I guess many of you have figured out that I am in the midst of a Tomie dePaola tornado of blogs from someone that knew a ton about children, what they like to read, what touched them, and how to both hold their interest, teach and entertain.
All of his some 270 books, written over his lengthy career, do that in some way, in that they all succeed at one or more of these aims.
Here, Meet Bill and Pete, and as I am in Florida for a bit, I have had the opportunity to view these crocs up close; or some close cousins, even some from a scant few feet away.
They are NOT as nice as William Everett Crocodile, also known as Bill,  whose friend Pete is his avian friend.
A croc's closest friend can be a bird, too!
Bill lives on the banks of the Nile River.
Little Jane Allison Crocodile is missing!
She is Bill's cousin.
Seems there are very bad types that nab crocs to be made into shoes.
She has been loaded on a boat called "Cleopatra" along with a hippo, ibis and camel.
Bill's mama wishes that his dad were here to help.
Unfortunately, HE was fashioned into a suitcase in years past!
But, stalwarts that they are, off Bill and Pete go off to rescue his cousin, Jane.
During their pursuit, they meet a Rich Lady, the Bad Guy and the Bad Guy's Big Bad  Brother.
Well, young readers, it's a journey  for ole Bill where, in order for the rescue of Pete, who is napped by the Rich Lady as a pet ( read the book), and also to rescue Cousin Jane, Bill goes to the Decatur Bayou in the USA where he meets the charming Antoine Pierre Alligator, AKA Bubba.
Bill meets a gator gathering of Pierre's confreres.
And, of course they are determined to aid both Bill and Pete, who is now a bird in a gilded cage at the mansion of the Rich Lady.
Does Pete escape?
Will he reunite with Bill?
Will they free the Exotic animals,  whose capture, by the way, is against the law?
What do you think?
Tomie dePaola offers characters to care about, troubles to confound them, comic relief along the way, and a happy ending to revel in.

                                                      Booklist, boxed review
If you want a croc and alligator adventure that is a picture book tale that needs tellng, Tomie de Paola's "Bill and Pete to the Rescue" is the real deal for young readers.
You might also be interested in...
There are so very many things we take for granted. And in the face of the pandemic, it has come [...] read full post ->

Just in case you missed this past Wednesday's Vice-Presidential debate, the closing [...] read full post ->

I love picture books that celebrate the easy and familiar give and take that should exist [...] read full post ->