National Winnie-the-Pooh Day! Oh, Bother. Not Really. We Love You Winnie!
01.18.20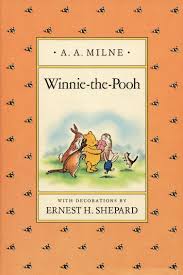 Today, January 18th, is National  Winnie-the-Pooh Day. Why you might ask? Well, the reason may well be that today, is also the birthday in 1892 of A.A. Milne, Winnie's creator.
Celebrated author in his own right, Tomie de Paola, reminded me of this fact this morning by way of his daily art-mail, with his homage to Winnie and the art of Ernest H. Shepard, A.A. Winnie's iconic illustrator.
Donated to the New York Public Library in 1987, the characters of Winnie, Eeyore, Kanga and Roo have sent "to the cleaners" for refurbishment at times.
"Winnie-the-Pooh and his friends have had "nips and tucks" in their journeys through their literary lives, as they are displayed and cherished by young readers who come to see them.
In 2016, Arielle Landau wrote the following:
"Milne first bought Edward Bear, or Teddy, at Harrods of London and gave him to his son, Christopher Robin, for his first birthday. As the boy grew he became known as Billy; the bear, as Winnie. Billy renamed the bear for a bear he met at the London Zoo. The name stuck and it is now a star on the Hollywood Walk of Fame; a testament to how much Pooh is loved."

"Milne's illustrator, Ernest H. Shepard, and other FRENDS AND RALETIONS also gave the British boy Piglet, Eeyore, Tigger, Kanga and Roo as presents. (Owl and Rabbit were entirely fictional.) Before long, Milne was writing and Shepard was illustrating the stories that have captured children and adult's imaginations"

"Roo, the tiniest of all, got lost in an apple orchard early on, but rest went on a tour of America with publisher E.P. Dutton and Co. in 1947 and were later donated to the library, where they are as cherished now as they were when Winnie-the-Pooh was first published in 1926."

They are on display in the Children's Room of the New York Public Library against a beautifully painted map on of the Hundred Acre Wood, "that fuzzy space between make believe and Sussex, England where author A.A. Milne lived with his family.  
In 2009, Lottie the Otter became a new and feisty character introduced by David Benedictus in the book "Return to the Hundred Acre Wood."
According to Benedictus:
"Lottie the Otter truly embodies Winnie-the-Pooh's values of friendship and adventure seen throughout Milne's work, thus making the perfect companion to everyone's favorite bear."
Huzzah for Winnie and pals!
It's the perfect day for young readers to take a walk in the Hundred Acre Wood, either for a sweet reminder of what adventures await in the imagination, or as a first step in the journey!
Below is a Youtube of the celebration and arrival of Lottie the Otter to join the group of iconic characters of childhood at the New York Public Library that I was privileged to attend.
You might also be interested in...
  Just for the record, Janice is Janice Brustlein and Mariana is Marian Foster Curtiss. And [...] read full post ->

In addition to being the unlucky Friday the 13th of ancient lore, I prefer at The Snuggery to [...] read full post ->

November 11th is Veterans Day. It's a time set aside to remember veterans, their service [...] read full post ->