"The Legend of Old Befana; An Italian Christmas Story" Retold and Illustrated by Tomie de Paola
01.06.20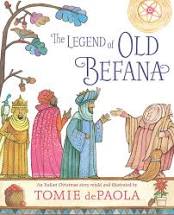 Today is January 6th and to some observers of Christmastide, it marks the feast of the Epiphany.
It's the day that, according to some religions, the Three Wise Men from the east, ended their journey in Bethlehem, presenting gifts to a newborn baby whose star had led them there.
Tomie de Paola, one of the most popular children's book authors and illustrators and winner of the prestigious Laura Ingalls Wilder Award, now known as the Children's Literature Legacy Award, has written a delightful telling of an Italian legend surrounding the Feast of the Three Kings:
Every year, on the Feast of the Three Kings, January the sixth, Old Befana visits all the children of Italy and leaves them candies, cookies, and gifts. It is said that she is searching for the Christ Child.

There are many stories about Old Befana and how she began her search.

This is one of them. 
My now-grown children loved this story, first published in 1980, and it still holds children in thrall. The story of the grouchy Old Befana who is forever sweeping and baking and then meets, by chance, the entourage of the Three Kings traveling to Bethlehem is enchanting.
Does Old Befana go with them?
Or must she first bake some sweets for the newborn, and of course, sweep up the house?
Will the delay allow her to catch up?
II is truly a night of miracles, as Tomie de Paola weaves this ancient Italian legend of Old Befana:
Every year on the Feast of the Three Kings, January the sixth, Old Befana runs across the sky.

She visits all children while they sleep and leaves them gifts from her basket.

Then she takes her broom and sweeps the room all clean.

"For, after all," says Old Befana, I never know which child might be the Baby King of Bethlehem"
Please allow your young reader to revel in this legend of Old Befana and her night of miracles.
In our world today, children need to believe that they are still possible.
You might also be interested in...
In addition to being the unlucky Friday the 13th of ancient lore, I prefer at The Snuggery to [...] read full post ->

November 11th is Veterans Day. It's a time set aside to remember veterans, their service [...] read full post ->

Day of the Dead Activity Book by Karl Jones and Steve Simpson and Uncle Monarch and the Day of [...] read full post ->