Here's A Tip of the Poetic Hat To Lee Bennett Hopkins: Friend and Author of Poetic Anthologies of Both His Own Work and Those of Others. He was Deeply Passionate About Poetry and its Emotional Impact as a Learning Tool for Children.
08.24.19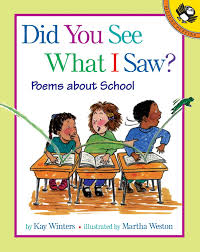 Did You See What I Saw?
Poems about School
By Kay Winters, illustrated by Martha Weston
School is a mere bat squeak of a week away, so I thought I would pay special attention to a great book on poetry for children that is school-themed, and at the same time, mention again, Lee Bennett Hopkins.
His unwavering belief lay in the fact that poetry should be part of children's lives as much as prose, and he lived a lifetime spent enhancing that reality as a published author of poetry, of both his own poetic work, and anthologies of others. Lee exemplified a pure dedication to something he loved and believed in – poetry for children that feeds the soul of a child…and can be used as a learning tool.
So here, parents, is a terrific book of school-themed poetry, as your young readers take their tentative steps back to the halls of ivy, and groves of academe, after a summer of carefree fun and frolic.
Kay Winter's Did You See What I Saw?: Poems About School, with kid-relatable art by Martha Weston, is just the ticket to ease young readers back into the school year.
Did you parents know that kids still call it "pumping"?  It's that energetic action as youngsters egg their swings ever higher with that back and forth action of sturdy young legs. In this collection of poems about school by Kay Winters, I was specifically reminded of that glorious effort in her poem called "Swinging". And you will too!
Swing

low.

Swing

high.

Pump

Fast.

Soar:

Fly.

Ride

wind.

Touch

sky

Swing

low.

Swing

high.
In poems from "School Bus" to "Books  Books   Books" to  "In the Circle" to "Not Fair," kids and parents will delight in this poetic collection of common themed school experiences.
From the less happy encounters, such as "Lots of Spots," documenting the flocks of spots that appear with chicken pox to one called "Blizzard," heralding the most awaited and joyous two words in all of elementary academia – No School!
Kids and parents will no doubt have their favorite as I do, and here it is. It's called "The Best". Can you guess why? It was my favorite part of the day too!
The best part

of the day

is when I hear

the teacher say,

"Sit by my chair

while I read."

We sprawl

on the rug.

It's like listening

to a hug,

while the story magic

pours over me.
Whether your child is at a school, where they listen sprawling comfortably on a rug or sitting at a desk forming neat little rows, the beauty of this book is the "magic" can reach each child's heart no matter where they sit!
Better still, the two of you can share it together.
And, it would make Lee smile a mile!
You might also be interested in...
It's 54 years, folks! 54 years that is, when on October 27, 1966, CBS aired for the first [...] read full post ->

Grosset and Dunlap author, Natasha Wing, ably and artistically accompanied by Amy Wummer, have [...] read full post ->

Please listen to this wonderful tale of friendship between an enormous whale and a mote of a [...] read full post ->