A Moon Dance for Picture Book Readers on This 50th Anniversary of United States' Astronauts Setting Foot on the Moon
07.19.19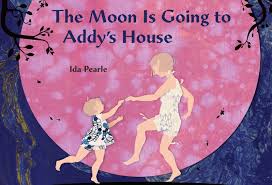 The Moon is Going To Addy's House
by Ida Pearle
There have been Pink Moons, Flower Moons and, on June 20th of 2016, the "Strawberry Moon" appeared on the same day as the summer solstice.
It's dubbed "Strawberry moon" because it happens to dovetail with the harvesting of strawberries, and how about this; not till 2062 will this synchronicity reoccur!
I do hope you and your young readers had the chance to glimpse this lunar phenomenon.
But if you didn't, you and your young one still can, via a picture book, see a beautiful series of artistic renderings of the moon that comes pretty darn close to the Strawberry moon.
The recent lunar event put me in mind of a picture book that had echoes of that strawberry moon within its collage constructed art and picture book story by Ida Pearle.
Ms. Pearle has her finger on the pulse of children, be they rural or urban, that have gazed in wonder for generations at the moon in its phases and imagined faces.
Meet young Addy and her family in their homeward journey from the city back to the country. Accompanying Addy is the famous lamplight of the moon, acting as a constant companion as their high beamed car travels over rolling hills and peeks and pokes at them from behind clouds, branches, boulders, and even as a reflection in the rear view mirror of their car. Constant and comforting is this moon that leads them home.
It's faint pinkness, here, did indeed remind me of the June 20th "Strawberry moon."
Addy's ride may even induce you and your young reader to pick a night to follow the moon some clear night one summer evening.
The picture book has both magic and movement with young Addy and her family and the moon looming ever larger on the horizon, as she joyfully turns handsprings and cartwheels on her arrival home, reminiscent of the freewheeling feel of youth that a summer night can evoke.
Lying on the lawn with mom, dad and a sibling in mom's arms, and the lights of home a stone's throw away, you can fairly smell the freshness of the grass on this typical summer night, as the moon's light caresses the scene.
It watches over me always.
Ida Pearle has picked the perfect image to end Addy's journey home to her own room, with the moon peeking in through curtained windows, as mom and dad take one last look in before retiring themselves.
"Ida Pearle is a magician who

understands children. She makes

her cut-paper collages dance and

play and come to life. Her work is

pure joy."

Brian Selznick, Caldecott Medal Winner
Why not try a moon dance at your house with your own family, after reading "The Moon is Going to Addy's House?"
And here's two perfect songs to play while you do. The first is Norah Jones' ballad called, what else, "Moon Song," and the second, is the jazzy and perfect Van Morrison 1970 classic called "Moon Dance."
https://www.youtube.com/watch?v=3wPsd7e2rfk
You might also be interested in...
"Flo And Wendell Explore" By William Wegman Today is "National Siblings [...] read full post ->

Vile Verses by Roald Dahl ROALD DAHL: the name is as magical, marvelous, mood-filled and [...] read full post ->

Little Poems for Tiny Ears Poems by Lin Oliver; illustrations by Tomie de Paola After a long [...] read full post ->