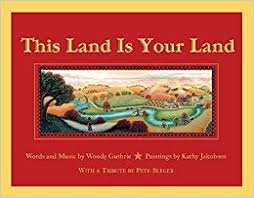 If you've ever heard or sung "This Land is Your Land" by legendary folksinger and songwriter Woody Guthrie, (and I'm pretty sure you have), then you must remember that its simple melody takes you on a tune-filled journey across America.
And, happily, I recently stumbled upon this picture book with its tribute and some insights into Guthrie's playable portrait of America, provided by Pete Seeger.
But, it's in folk artist, Kathy Jakobsen's glorious artwork that the words and music become truly resonant for the young reader or any reader, as the words of Guthrie's song appear in paintings that are as homespun and humble as the song itself.
Her paintings appear as permanent collections in The American Museum of Folk Art and The Smithsonian. She has also done the paintings for a book called Johnny Appleseed, written by Reeve Lindbergh, who is Charles Lindbergh's daughter. This particular title that I've also blogged on is certainly worth a look too!
And even for the very youngest future readers in your family, the words read to them, with the accompanying gorgeous art, will give them a sense of the grandeur of this country of ours, amid all the hits and misses its had in its 200 plus year journey.
And Woody Guthrie's words will give them a sense of shared ownership in its future. That, in itself, makes this a classic read to be shared with your young readers. "This land was made for you and me," right?
Here are but three reviews of this grand picture book:
"This beautiful homage to America, and to a favorite folksinger is sure to be a family treasure."

   Publisher's Weekly

"This effort is what great picture books are all about."

  School Library Journal

This beautifully designed book belongs in every school library as a part of our musical history, as a tribute to the Dust Bowl Era and the political activism that music can reinforce and encourage as an elegant example of picture book art.

Children's Literature
Did you know that Woody Guthrie wrote about a thousand folk songs, ballads and children's songs? I didn't. He probably set the stage for the folk music genre coming to the fore in the 1960's.
From the cover flap of this grand picture book,  none other than Nobel prize winner Bob Dylan and The Boss himself, Bruce Springsteen, were influenced in their work by Woody Guthrie. And Woody's son, Arlo, has a pretty famous song too, called "Alice's Restaurant."
Here's probably the most famous of the lines from the song, "This Land is Your Land :
"This land is your land, this land is my land,

From California to the New York island;

 From the redwood forest to the Gulf Stream waters,

 This land was made for you and me."
The first time that Pete Seeger heard "This Land is Your Land," he heard it after it was recorded by a small recording company called Folkways, and according to Mr. Seeger, "It's a nice idea, but the tune is too simple. This song is one of Woody's lesser efforts."
Shows just how wrong artists can be in critiquing one another!
You will read in Pete Seeger's Tribute, that Guthrie wrote this piece of Americana "in the windy, icy February of 1940 when he hitchhiked from Los Angeles to New York City."
Sort of reminded me of Irving Berlin writing the quintessential Christmas song called "White Christmas" in the warmth of California in December, also coincidentally in the year 1940. And Irving Berlin supposedly said at the time to his secretary:
"Grab your pen and take down this song. I just wrote the best song I've ever written. Heck, I just wrote the best song that anybody's ever written."
Well, not sure about that, but dear me, let confidence always reign supreme in the mind of the artist!
Circling back to Woody Guthrie and "This Land is Your Land", here is his own definition of a folk song:
"A folk song is what's wrong and how to fix it or it could be who's hungry and where their mouth is or who's out of work and where the job is or who's broke and where the money is or who's carrying a gun and where the peace is."
If that's still true today, and I tend to think it is, then maybe we need a lot more folk songs, just like Woody Guthrie's, to give voice to what matters at the end of the day.
Lord knows many of the same problems exist today as they did in 1940.
Please let your young reader have a chance to see this Publishers Weekly Notable Book, A School Library Journal Best Book, A Parenting Book of the Year and New York Times Notable Book.
It's a fitting way to welcome in July 4th…a bit down the road, time wise!
Please listen to the Army Six-String Soldiers, singing Woody Guthrie's song:
You might also be interested in...
Dear Mr. Washington By Lynn Cullen; pictures by Nancy Carpenter Are you ready for a funny and [...] read full post ->

The double whammy of a Caldecott Honor winner and Newbery Honor winner is a sure bet that [...] read full post ->

The Buck Stops Here: The Presidents of the United States By Alice Provensen   February 15th [...] read full post ->