"Memorial Day: Festivals, Holidays and Celebrations" by Trudi Strain Trueit; art by Ronnie Rooney
05.24.19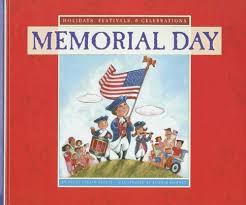 In searching out picture books for Memorial Day, I try to find those that both give a historical background of the day, how it morphed from Decoration Day, following the Civil War to around 1890, when it became known as Memorial Day.
I try to find picture books that spotlight all the components and elements of time honored traditions, celebrations, speeches, places, symbols, and even poetry and songs, that are an integral part of the Memorial Day tribute to those that sacrificed their lives for our freedoms.
Trudi Strain Trueit has put together a picture book that, I think, collects all these elements for picture book readers' understanding of Memorial Day. And Ronnie Rooney's art perfectly complements the narrative, portraying the historical progression of this traditional American holiday.
Though there were some things that I knew of concerning its origins and observations, there were others that were both informative and humbling, when looked at thought the <em>prism of time,</em> which is the true leveler and test of what is <em>enduring </em>in a culture.
There is a quiet question that lingers as you shut the pages of this book. And it is this:
What is it that we want our children and future generations to glean from the marking of Memorial Day?
Is it the start of the summer season? Is it barbecues and family gatherings? Is it the word <em>Memorial Day Sale,</em> writ large at malls across America? Or is it something <em>more </em>than all of these put together, though they indeed each have their place in the celebration?
Perhaps, because of the pandemic of 2020, this year and the safety of the new word called social-distancing, not very many of those time honored traditions of Memorial Day will take place this year.
but, there is one tradition that can and should take place…and it will, even amid the Covod-19 pandemic. It is an age old traditional at Arlington National Cemetery in Washington, D.C.
Soldiers from "the Old Guard" honor the fallen on Memorial Day with 240,000 flags; one for each headstone. Said General mark Milley, the Chairman of the Joint Chiefs of Staff in a recent interview:
For families of the fallen, every day is Memorial Day.
I suppose in some sense, I want to say they are not, and shouldn't be, the defining reason for the marking of Memorial Day.
In this small, simple, eight chapter book, parents will find a delightful and densely packed picture book with information that will help their child understand the meaning and morphing of Memorial Day, both as it stands today…and how it evolved. A memorial, as the book states is "a lasting tribute:"
<blockquote><em> " It helps us to remember</em>
<em> an important person, group</em>
<em> or event."</em></blockquote>
<em> </em>
They will learn that the day was created, and initially called Decoration Day, where, during the Civil War between the North and South, families found themselves on opposite sides in the war. Father fought against son, and even brother against brother. "In these sad times women in the South began decorating the graves of southern Confederate soldiers with flowers. They decorated the graves of northern Union soldiers, too."
By 1865 the Civil War ends, with some 600,000 soldiers killed in a war fought on both economic and slavery issues.
1868 finds Union General John Alexander Logan declaring that each May 30th will be a day to remember those who died in the Civil War.
And the first national day of celebration is, as I said, initially termed Decoration Day, and was held at Arlington National Cemetery; a military cemetery in Virginia.
Young readers will hear of Moina Michaels and her desire, following WWl, after hearing the John McCrae poem, <em>"In Flanders Fields,"</em> a determination to make and wear a silk poppy as a symbol for fallen soldiers. It was later expanded to honor all soldiers in the armed forces who died in wartime, and this small idea and enterprise of poppy making and sales has generated over $200 million for veterans groups in the United States and England.
In 1948 she was honored with a stamp by the United States Postal Service.
From the explanation of the Tomb of the Unknowns at Arlington, to the year 2000's Congressional creation of a National Moment of Remembrance at 3P.M. on Memorial Day, when all Americans are asked to pause and remember the "nation's fallen soldiers," this remembrance continues through both time, and generations of Americans, young and not so young.
Young readers will learn the meaning of the color concept surrounding the American flag, figured so prominently in parades and on porches that day.
Did you know that it is a <em>tradition</em> to lower the American flag to <em>half staff </em>until <em>noon</em> on Memorial Day, as a sign of respect? Here are what the flag's colors symbolize:
<em> </em>
<em> "White stands for purity and innocence</em>
<em> </em>
<em> Red stands for valor and hardiness.</em>
<em> </em>
<em> Blue stands for vigilance, perseverance</em>
<em> and justice."</em>
Sidebars on each page of this picture book are filled with quotes from presidents including Lincoln, Reagan, Clinton and George W. Bush, as well as historical figures quoted from General Robert E. Lee, General John A. Logan, and Nathan Hale.
Young readers can read about "Joining in the Spirit of Memorial Day" at the close of the book, suggesting some seven ways to participate in the day, and honor those, including their own relatives, who may have died in the line of duty.
I guess my favorite part is the last chapter; the poems and songs that evoke the essence of Memorial Day. Some I knew, some I had forgotten or never knew in their completeness.
But "Taps," with words in their entirety, is featured in the "Song" portion. Played by a single trumpet as the traditional music played at funerals of fallen soldiers, its pureness and poignancy in sound and symbol is what Memorial Day is about.
And here are the words:
<em>Taps</em>
<blockquote><em>Fading light dims the sight,</em>
<em>And a star gems the sky, gleaming bright.</em>
<em>From afar drawing nigh comes the night.</em>
<em>Day is done, gone the sun.</em>
<em>From the lakes, from the hills, from the sky.</em>
<em>All is well, safely rest, God is nigh.</em></blockquote>
<em>words and music by Major</em>
<em>General Daniel Butterfield (1831-1901)</em>
*Here is "Taps," played at Arlington National Cemetery, both in summer, and in a driving snow storm.
<a href="https://www.youtube.com/watch?v=Y5kynjRHI4c">https://www.youtube.com/watch?v=Y5kynjRHI4c</a>
You might also be interested in...
"Flo And Wendell Explore" By William Wegman Today is "National Siblings [...] read full post ->

Vile Verses by Roald Dahl ROALD DAHL: the name is as magical, marvelous, mood-filled and [...] read full post ->

Little Poems for Tiny Ears Poems by Lin Oliver; illustrations by Tomie de Paola After a long [...] read full post ->