"Easter Love Letters from God : Bible Stories" by Glenys Nellist; Illustrated by Sophie Allsopp
04.15.19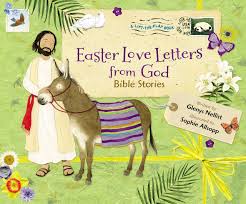 I have been posting books this week for young readers and their families that are trying to balance the secular approach to the Easter season with a more spiritual sense that precedes the arrival of Easter Sunday.
While there is certainly nothing wrong with Easter egg hunts, Easter finery and the celebration of Easter baskets piled high with chocolate rabbits, jelly beans and the like, many families today are trying to balance today's culture of "More" with the question of "More what?" and how can we BE in the world what we want to SEE in the world?
And so, we may try to give our young readers books that balance the secular parts of Easter reflected in the newness and rebirth of life with the timeless lessons of Lent and Easter that are, and dare I use a much forgotten word called….SACRIFICE, as opposed to the ever-popular SELF?
Glenys Nellist has written what I consider a fine exposition story telling picture book for children of the events leading up to Easter.
Starting with Palm Sunday, the familiar centuries old events of Jesus' glorious entry into Jerusalem unfold. At the end of each Bible story of the events of Holy Week is a "lift the flap letter from God." 
If you wish, it leaves a place where it may be addressed to your child. Something so personal is important in a world where God may seem like a very distant concept for children.
The letters are written from a father's viewpoint about why his son has come to earth in order to be his symbol of love in the world.  And, they are quite touching when read to your child from God the Father's viewpoint.
The Table of Contents:

     King of Kings – Ride into Jerusalem

     What Love Looks Like – Washing Feet

     The Secret Supper – Last Supper

     The Gloomy Garden – Gethsemane

     The Darkest Day – Crucifixion

      The Quiet Cave -Burial

      The Super Surprise – Resurrection
Interspersed are opportunities to read quotes from the Bible, entitled, "God's Wonderful Words to You" that reflect the emotions and events spoken of in the stories that unfold in Holy Week.
The book is very well done for young readers, and the Crucifixion, which is always a conundrum because of how children can react with such depth of feeling concerning death, is handled with sensitivity.
Sophie Allsopp's art is wonderful in that it hits exactly the right notes of joy and sadness when it needs to, and illustrates the ag- old story of sacrifice, love and resurrection with restraint coupled with radiance.
"Easter Love Letters from God Bible Stories" by Glenys Nellist and illustrated by Sophie Allsopp is a great addition to your children's library if you are searching for a fine way to balance the secular part of Easter with, to my mind, the much-needed spiritual, that the world is much in need of.
You might also be interested in...
"Flo And Wendell Explore" By William Wegman Today is "National Siblings [...] read full post ->

Vile Verses by Roald Dahl ROALD DAHL: the name is as magical, marvelous, mood-filled and [...] read full post ->

Little Poems for Tiny Ears Poems by Lin Oliver; illustrations by Tomie de Paola After a long [...] read full post ->