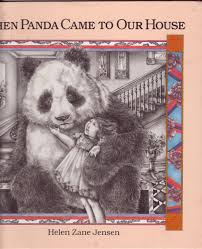 A friend of mine recently reminded me about this delightful book. It allows young readers, via the unexpected visit of a giant panda to a young girl's house, a marvelous entry into the world of Chinese culture.
And, as the Year of the Chinese New Year, (the Year of the Pig), kicked off on January 28th, known as the Little Year, and the Spring Festival began on February 5th, ending with the Lantern Festival on February 19th, it's a wonderful time to introduce your child to the Chinese culture.
And what better way than the picture book called "When Panda Came to Our House" by Helen Zane Jensen.
Can you imagine the surprise of a young girl in America when a giant Chinese panda pops in for a visit? He brings with him a conglomeration of Chinese toys, food and beautiful things from his homeland.
This intermixing of cultures makes for a wonderful story that not only educates about Chinese culture, but makes the point that friendship transcends all. And that what separates us is not as important as what binds us together in a common humanity. What a great lesson this is for young readers in a wonderful picture book read.
The black and white drawings that accompany the narrative have a softening reality that perhaps suggests what we can all embrace in one another.. if we allow it.
The Mandarin symbols that mark the pages are a delight as the young girl, for a magical interim of time, learns about tofu, chopsticks, fans, the art of the yo-yo, kites, the ancient art of computation via the abacus, the mythic bird and beast called the phoenix and dragon and so much more.
Did you know the peach was originally grown in China? It's a symbol of long life and springtime;  that's something to hold onto in the harshness of winter.
I wonder how our peach trees are faring at the farm, come to think of it?
As the panda departs, he leaves the young girl a glass peach as a parting gift to remember him by.
The feeling that friends have goes on and on and doesn't stop when one friend leaves. 

         I will remember you, Panda – forever.
And so will your young reader…and so will I; every time I sniff our peach trees!
You might also be interested in...
"Flo And Wendell Explore" By William Wegman Today is "National Siblings [...] read full post ->

Vile Verses by Roald Dahl ROALD DAHL: the name is as magical, marvelous, mood-filled and [...] read full post ->

Little Poems for Tiny Ears Poems by Lin Oliver; illustrations by Tomie de Paola After a long [...] read full post ->