"St. Patrick's Day" by Anne Rockwell; pictures by Lizzy Rockwell
03.14.18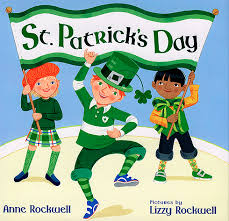 St. Patrick's Day, whether you are Irish or no, has a penchant for the wearing of the green for people of a variety of nationalities.
Anne and Lizzy Rockwell have collaborated here on an book that the ALA Booklist, termed a "lively place."
And your young readers may find it so, as well, for it takes place as children of all different ethnicities celebrate the "wearin' of the green," in a variety of distinct ways.
Pablo wears green sneakers, while his red-headed classmate, Evan, wears both green pants, green shirt and striped green socks! And, even a passing dog walker is sporting a pair of green slacks.
At school, young readers may see something reminiscent of their own classroom observances of St. Patrick's Day; from teams working on St. Patrick's Day reports, to a teacher named Mr. Siscoe helping a student research the origins of the saint so he can produce a printout of the childrens' story .
And here's just a snippet of their report:
   One bad day, people took St. Patrick from England
   across the sea to Ireland to be a slave.
    Patrick was a shepherd. He didn't fight with anyone.
    But he missed his mother and father, so he escaped.
    But before long he went back to Ireland to teach people
    to be kind to each another.
Bet you didn't know that St. Patrick was from England. I guess I had better be a mite more specific regarding St. Patrick's birthplace in the United Kingdom, according to a friend of mine.
Historians have determined that Patrick's actual birthplace was in south Wales at Banwen to be exact in the year 386 A.D. That would make St. Patrick a Welshman, in fact. And this bit of historical accuracy comes from the writings of Patrick himself.
And, trust me, I am not practicing "Bolloxology" here, to use an Irish phrase.
Want to know the reason for there being no snakes in Ireland? It's shown in a classroom reenactment from classmates Sarah and Nicholas in the scene where St. Patrick (played by Nicholas) bangs the drum loudly, causing Sarah (as the snake) to slither away from the sound of the clanging drum, to the safety of the sea.
Mr. Kelly, the music teacher teaches Pablo and Sam how to dance an Irish jig, while Kate, on the violin fiddles fast enough to hasten the pace of the dance. Topped with green hats, "They looked like the leprechauns that make mischief on St. Patrick's Day."
Evelyn and Michiko bring four leaf clovers and explain about the special plant that St. Patrick brought to Ireland. The three-leafed plant is planted in a cup for each pupil to bring home.
One important piece of information forgotten here is that the three-leafed clover was itself a teaching tool that Patrick used to instruct the Irish in the very complex belief of the concept of the Trinity. And, that was that each leaf was a representation of the three distinct persons in one God (Father, Son and Holy Spirit.)
Mrs. Madoff concludes with the historical basis for St. Patrick's Day when so very many Irish traveled across the sea to America, that is the impetus for the St. Patrick's Day celebrations of today, whether we're Irish or not!
Remember the little red-headed boy on the way to school with Pablo? Well, Evan is ALL Irish and even has an album of pictures from his visit to grandparents and aunts in the Old Sod.
Pablo and Evan travel home to Evan's house and open the door to the smell of Irish soda bread with raisins being mixed, then popped into the oven. And, later it is shared with Pablo and his mom.
Anne and Lizzy Rockwell have done a fine job through narrative and inviting, colorful art to make St. Patrick's Day an inclusive celebration that can be enjoyed by everyone.
And, if there is a lesson to be learned along with the story and its tidbits of points about the day is that the celebration of many special days in many different ethnicities, makes children much more culturally aware of the diversity of the world they are inhabiting, and in which they will live.
That exposure starts early and the Rockwells' book on one such celebration is a high steppin' step in the right direction!
Now, where's the corned beef and cabbage?
And to close this blog, here's one of my all time favorite Irish tunes called The Rare Old Times sung by The Dubliners. The black and white photos are beautiful and speak of the changing of the beauty of old Dublin City that has disappeared.
Ireland has a terrible and rare beauty that has to be experienced, and I hope that you and your young readers have a chance to see it in person.
https://www.youtube.com/watch?v=9T7OaDDR7i8
You might also be interested in...
There are a multitude of Christmas picture books out there this time of year. There are many [...] read full post ->

Seventy-seven years ago may seem like an eternity to a child. But, in the annals of the history [...] read full post ->

December 6th is the Feast of St. Nicholas, who is the patron of children and of sailors. His [...] read full post ->