Here's Another Great Picture Book to Celebrate the Chinese New Year; Did You Know 2018 is the Year of the Dog?
02.09.18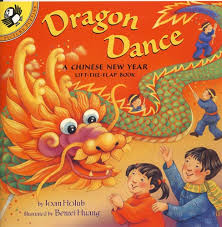 Dragon Dance: A Chinese New Year Lift the Flap Book
By Joan Holub; illustrated by Benrei Hwang
For parents of 2-6 year olds who are looking for a colorful and comprehensive look at the ancient cultural traditions surrounding the Chinese New Year binding family celebrations at the heart of the festival, here is a book that explains many of them for the younger group, using an appealing, hands on approach. Kids love to lift the flaps and discover.
In Dragon Dance, there's lots for everyone to do in the preparation for the welcoming of the New Year whose date is determined by the Chinese lunar calendar and much to enjoy during the ensuing festive celebrations. Whether it involves shopping for fresh flowers at an outdoor market, eating New Year dinner with the family, or receiving the much awaited traditional red envelopes containing money from ones parents, grandparents or close relatives, family is the focus of the fun. I've read that some children awaken to find under their pillows red envelopes the contents of which, may or may not reflect how good they've been during the previous year. And naturally, the best of course is saved for last – watching the New Year parade.
For the smallest of celebrants, this may just be the perfect introduction to 2018 Year of the Dog.
Here's some background information history on the Dog, the eleventh of the twelve zodiac animal signs in the Chinese New Year.
There is a myth that says the Jade Emperor himself said the order of animals would be decided by the order in which the animals arrived at his party he was giving.
And guess what? Monkey, Rooster and Dog were off helping another god with some difficult evil spirits. So, they arrived late. But, all three arrived at the Jade Emperor's party at the same time! How does the Jade Emperor decide this conundrum? Simple, says he. He will go by the order they met the god in the other country that needed help. The Dog got the number eleven position.
Here's another tidbit: those born in the year of the Dog are both sympathetic AND compassionate. And, if you are fortunate enough to have their friendship, a Dog will never disappoint you.
Sounds like a great year to go to the Dogs!  And the Chinese New Year of the Dog starts on Friday, February 16. Woof!
You might also be interested in...
My Brother Martin: A Sister Remembers Growing up with Rev. Dr. Martin Luther King Jr. By [...] read full post ->

National Book Blitz Month We're almost through January and maybe the winter doldrums have set [...] read full post ->

Snowflake Bentley By Jacqueline Briggs Martin; illustrated by Mary Azarian In these cold [...] read full post ->