Happy Halloween from Bing Crosby and Walt Disney's 1949 Classic Halloween Treat: "The Legend of Sleepy Hollow"
10.30.17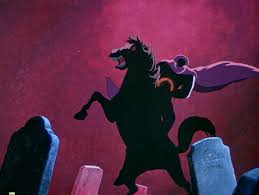 Before Bing Crosby signed on for this one-time collaboration with Disney, another man named Thurl Ravenscroft, the voice of Tony the tiger and also the mean one…Mr. Grinch, did his own version which was never used by Disney in the film. Bing was ultimately chosen as the narrator for "The Legend of Sleepy Hollow," but here are both. You can compare it to Mr. Ravenscroft's version in the second link below along with some interesting facts about this 1949 essential classic for Halloween. Bing's  tone is lighter and more carefree, while Thurl's is a bit darker and more menacing. Who else would share this minutia, along with some other bits  on the second link below?
http://popkey.co/m/GMxpQ-disney-headless+horseman-cartoon
http://mentalfloss.com/article/87938/11-hair-raising-facts-about-disneys-legend-sleepy-hollow
You might also be interested in...
Thanksgiving is… By Gail Gibbons Yams or sweet potatoes? Chestnut or sausage dressing? Sweet [...] read full post ->

Some people dream the dream. Some people live the dream. Some people defend the dream. [...] read full post ->

November 11th is Veterans Day. It's a time set aside to remember veterans, their service [...] read full post ->