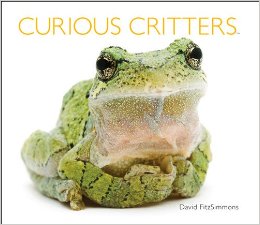 Curious Critters
By David FitzSimmons
If you have a future marine biologist in your family, or just a young reader that is crazy about the world of nature, and all the myriad mammals and wildlife that inhabit it, then here is a non-fiction set of books for them…and you!
Photographer David FitzSimmons has compiled a group of outstanding nature picture and board books for the youngest of readers.
He has been featured on AnimalPlanet.com, NBC, ABC and CBS-TV, as well as garnering great reviews in Publishers Weekly and School Library Journal.
His Curious Critters, Vol.ll won the Indie Excellence Award as well as numerous others, while Volume l gathered 5 National Book Awards.
Here's a rave from just one source:
          The sophisticated photography

          and lighthearted narrative com-

          bine in an intriguing introduction

          to…inhabitants of the natural world.

                     

                                School Library Journal
Freelance writer/photographer David  FitzSimmons has even compiled a set of specialty board books that feature individualized "curious critters" that are indigenous to states such as Florida, Michigan, Illinois, Indiana, Missouri, Texas and his home state, Ohio.
For readers living in those states, it would be a kick to look for the Opossum "exploring backyards at night in Michigan" or take in the Question Mark Butterfly that's spied "fluttering through parks in Ohio."
The text alongside each "critter" is written from their point of view, as in that accompanying the Blue Jay:
   Kee eeee arr. Kee eeee-arr.

   Ha! I scared you with my hawk call, didn't             

   I? You thought I was coming to get

   you. Actually, I'm just a jabbering jay,

   but I love to imitate hawks and other

   birds.
Nature, at times, can seem further removed, and more elusive, from the reality of our everyday lives, as referenced by folksinger singer/songwriter Joni Mitchell's ode to the environment, in her famous "Big Yellow Taxi" line:
   "They paved Paradise,

     and put up a parking lot."
Spending time on a vineyard/orchard/farm, I've had the rare opportunity to reconnect with nature. And it has changed the way I look at what surrounds us; what we sometimes take for granted –  the ecosystems that surround and support life.
Mother Nature is the silent partner in all we do and grow there. And sometimes she is not so silent. But she is one grand lady.
Well, here's an opportunity to let young readers see the rare beauty that exists in the fish, fowl, insect, and animal world, in all its diverse and select sensibility that becomes as close as the turn of a page.
Your young readers will have a chance to view nature through the lens of David FitzSimmons' camera eye, and leaf through the pages of picture books that his amazing photography brings to startling reality and presence.
This is nature so real that you feel you can literally reach out and touch – even a friendly box turtle – in perfect safety!
Curious Critters Volumes l and ll introduces kids to a concoction of critters they may never even heard of… and some that they may have seen themselves.
Everything from the Red Flat Bark Beetle to the Jumping Spider, from the Chinese Praying Mantis to the Bush Katydid are brought to life in rich detail and full color.
And let's face it, most kids are in love with the yucky, so please be prepared for a few Ewwwws, as well as Ahhhhhs, as they see nature up close and personal.
I think one of the most amazing photos is the two-page spread of the Nine-Banded Armadillo or the "Armored one."
And, with each page, a creature is accompanied by a fount of interesting facts about each "Curious Critter" that you and  your young readers meet and greet via these pics. Paging through these books is akin to enjoying a mini seminar on becoming naturalists.
Did you know an armadillo's armor is made up of plates called "scutes" that protect this guy from "hawks, bears and coyotes."
"Isn't nature neat?" kids are sure to crow as they view its inhabitants via vibrant and fact-filled reads on this astonishing array of nature's own.
If you haven't been to a nature preserve recently, or out where the "wild things" thrive, then a look see at these "Curious Critters" picture books is almost as good.
In fact, it may just provide the impetus for a walk on the "wild side," for a nature expedition with the family in tow, to ferret out some in your own locale.
What better healing power exists than a closer chance to see nature in all her beauty and boisterous creation?
And it's all from the comfort of this wonderful armchair view, thanks to the cute, cunning and carnivorous wonders found in Curious Critters.
Take a bow, Mother Nature, courtesy of David FitzSimmons!
******************************************
To learn more, visit www.curious-critters.com
You might also be interested in...
"Flo And Wendell Explore" By William Wegman Today is "National Siblings [...] read full post ->

Vile Verses by Roald Dahl ROALD DAHL: the name is as magical, marvelous, mood-filled and [...] read full post ->

Little Poems for Tiny Ears Poems by Lin Oliver; illustrations by Tomie de Paola After a long [...] read full post ->