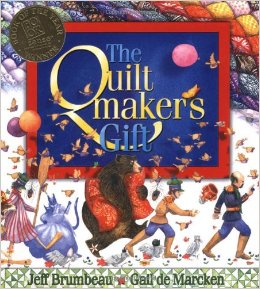 The Quiltmaker's Gift
By Jeff Brumbeau; pictures by Gail de Marcken
I have a friend who is a tenacious and prolific quilt maker. Makes them with both her time and talent – she then gives them away to those she loves – and to those she feels may need one.
Having been the recipient of some of her work, I thought immediately of her as I read "The Quiltmaker's Gift." For that is truly what they are; gifts from the heart and hand in every stitch, every pattern, every blending and choice of color, my friend, weaves love and a part of herself into her quilts.
They are all gift; freely given and gratefully received.
Which brings us to another quiltmaker in the picture book called, The Quiltmaker's Gift.
It won the children's Book Sense Book of the Year Award in 2000. The award, inaugurated at BookExpo America 2000, features winners in both adult and children's books, representing combined national and local staff picks of booksellers' favorites from more than 1200 independent bookstores.
It is a modern fable, more than appropriate for our time, when the getting of things may seem paramount, and giving, can sometimes take a back seat.
The beauty woven in this tousled white-haired quiltmaker's quilts, is quite something to behold, and they also, like my friend's, are given freely to those in need of a touch of the beautiful in their lives. Her woven colors are nature come alive:
The blues seem to come from the

deepest part of the ocean, the whites from the northernmost snows, the greens and

purples from the abundant wildflowers the

reds, oranges, and pinks from the most

wonderful sunsets.
And the craft she fashions from her magical fingers are not for purchase. These quilts are solely for the poor, though many line up at her door to purchase one. They are, by reputation and observation, the most wonderful in the world. And they are all giveaways:
  I give my quilts to those

     who are poor or homeless,

           she told all who knocked at her

          door. They are not for the rich.
Meet the king in his palace consumed with "consumerism," as it were. He has  storehouses of treasures and trinkets, yet no thought of sharing the riches he has. And he has the temerity to issue a decree that he receive two birthday gifts a year from his subjects.
Problem: the quiltmaker has gifted him with nary a one, much less two!
Word reaches him of her social faux pas, and the one thing he does not possess, he believes, will make him the happiest of men.
And, of course, that would be the one thing he cannot have – one of the quiltmaker's creations.
But she is not above deal-making with the king. If he gives away what he has, then there is a chance for a quilt in his future, as in:
          Make presents of everything

          you own, she said, and then I'll

          make a quilt for you.
Artist Gail de Marcken allows both you and your young reader to take a wondrous walk through the king's treasure trove of:
Things that shimmered and glittered and glowed.

Things whimsical and practical.

Things mysterious and magical.

So many things that the king kept a list

of all the lists of things he owned.
It's nigh on to impossible for him to let go of any of it; let alone all of it.
Yet, the quiltmaker is a tenacious sort and she bargains that, as the ruler lets go of one thing, she will add one thing to his quilt. Sounds reasonable. After all, this king is on a learning curve.
Not used to being refused a request, he tries strong arm tactics through solitary confinement of the quiltmaker that finds her confined with bears as bedmates in caves, and isolation with solitary sparrows on lonely Elba's of the king's making.
Even here, she wins the hearts of her fellows, easing their discomfort with magical fashionings from what's at hand.
The king relents, finally, from sheer frustration and tries it her way.
And the great giveaway commences.
It is transformative for both king and reader to see the change that comes from seeing the sheer delight on the faces of subjects that receive velvet coats, carousels, waltzing Siamese cats and more.
And with each giveaway, his quilt, as promised, begins  to take shape. But that is not all that is taking shape here.
Not content with the nearby poor, the king travels to places continents away to gift them with his treasures.
Just poring over the delicious double page  27 squares of art, depicting his foreign lands' largesse, is a gift in itself by artist Gail de Marcken, who makes his wealth, and its sharing, come to life.
Does he return rich? No! Does he, himself, become the poor to whom he displayed hauteur, yet ultimately heaps on help? Yes!
Does he receive the most beautiful of quilts? You bet.
Yet, in his poverty, he has one more gift to endow to the quilt maker; his throne hoisted down from a "rickety rundown wagon."
It's just the thing for sitting while sewing.
Can you believe it?
These two form a partnership; she sews and he searches out the deserving recipients of her quilts.
I do have to say that I do have one reserve or caveat on the subtler message of this book.
While its philosophy at heart is very admirable, what happens when the king has nothing more to give away, because he himself is poor; admittedly happy, but very poor? Is destitution the sole solution to income inequality? Can he help the poor by his own pure happiness, if he has nothing left to regenerate his ability to give away to the poor, other than by becoming one of them?
Certainly I am not advocating for the famous Gordon Gekko quote in the movie, "Wall Street", that "Greed is good". But there is something else this picture book caused me to ponder, and, perhaps, even young readers as well.
Is a world where everyone is poor an ideal to be sought? And here's another thought: even the rich may be in need of one of the  quilts freely given, for those rich people dismissed at her door, may be in spiritual or emotional need, though not in terms of dollars and things.
Their need may not show on the outside as much as the lack of goods, but may be every bit as real. But then, we humans do tend to judge by appearances. Hmmm.
Still, I think there is merit in the fable feel and flavor of the thoughts in this book.
And the thought is this: next time your kids ask to go to the mall for one more thing they want, but don't need, maybe a reading of "The Quiltmaker's Gift" is the picture book to make them more aware of things in worlds beyond their own realm, and maybe, the impetus for a small way to start to change them.
You might also be interested in...
"Flo And Wendell Explore" By William Wegman Today is "National Siblings [...] read full post ->

Vile Verses by Roald Dahl ROALD DAHL: the name is as magical, marvelous, mood-filled and [...] read full post ->

Little Poems for Tiny Ears Poems by Lin Oliver; illustrations by Tomie de Paola After a long [...] read full post ->