Way Back Wednesday Essential Classic
07.01.15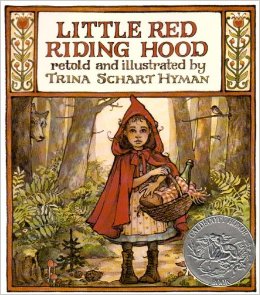 Little Red Riding Hood
retold and illustrated by Trina Schart Hyman
Did you know that the story of "Little Red Riding Hood" was a special favorite of Ms. Hyman's? And, she apparently, if biography tales can always be believed, spent a whole year wearing a red cape as a homage to this heroine in red.
I love stories that give you a personal window into what motivates and influences a picture book author's art.
And Trina Schart Hyman, winner of a Caldecott for this particular book, and a Caldecott in 1985 for her "St. George and the Dragon" is both a wondrous artist and teller of tales. Thank goodness, we can discover and rediscover essential classics like this one with young readers of picture books. When we introduce narratives and art like hers to them, it certainly sets the bar quite high as we show them in that genre, what is great vs what is merely mediocre.
Mediocre can be okay – at times. Like food, a steady diet of the essentials is what will make the body strong. And equally so, a diet of the essentials of the canon of great children's literature is the best way to feed the mind and imagination of children. The fluff of treats and sweets is also palatable and easy going down, but does it satisfy as well? Maybe, but I think not. Something to ponder.
I love borders in picture books. They add dimension, and sometimes depth to what lies within. And Ms. Hyman here, like the notable Jan Brett, has brought borders with rusticity that play perfectly to the story of the red caped girl.
Here, Red Riding Hood has a name. It's Elisabeth and the red cape is a birthday gift from grandmother.
The wolf here is pretty cagey, as per usual, making polite conversation, all the while plying Red Riding Hood with queries about her destination.
I love Ms. Schart Hyman's pose of the wolf and Red Riding Hood in the wood with shafts of quiet light descending on the wolf as if to expose his evil intent. Heh Heh!
He is wolfishly wily and craven as he springs out of bed in grandmother's garb!
But, thank goodness for the noble huntsman that Ms. Schart Hyman has clad in buckskin a la Davy Crockett! Charming!
If you're looking for one version of this tale as old as time, this is the version to introduce to your young reader.
Red Riding Hood is as sweet as a Hummel figurine and the story with its detailed and muted illustrations, lends a cheery warmth to a red caped girl that knows her way around a wolf!
You might also be interested in...
Back of the Bus By Aaron Reynolds, illustrated by Floyd Cooper It may seem strange perhaps to [...] read full post ->

What Was the March on Washington? By Kathleen Krull, illustrated by Tim Tomkinson January 18th [...] read full post ->

The Birds of Bethlehem By Tomie dePaola   Who better to tell the beautiful story of the first [...] read full post ->